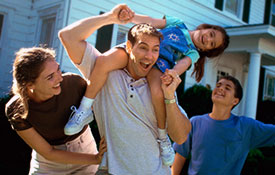 Air Conditioning Installation, AC Repair & Heating and Cooling Company in Oswego, IL
Youngren's Inc has been Oswego, IL's leading heating and cooling company for over 80 years. We provide satisfactory service with our 24/7 Comfort policy, we know that emergencies happen, you can count on Youngren's Inc to take the call, any day of the week, at any hour of the day! Youngren's Inc is an authorized Bryant dealer, you can trust our technicians to install, service, and repair your heating and cooling system with the utmost care, leaving your home or business looking like we were never there! Talk to one of our expert technicians today for more information about our Bryant furnaces and air conditioners at (630) 701-7794!
Furnace Service & Repair and Furnace Installation | Oswego, IL
Make sure your furnace doesn't quit on your this winter! Youngren's Inc is here to ensure your furnace is serviced at an affordable rate. Keeping your furnace serviced not only allows it to run more efficiently, saving you money, but it also prevents unnecessary wear and tear, preventing repairs down the road. We are here to help you keep your current furnace running strong for as long as possible, but sometimes maintaining an old energy guzzling furnace just isn't worth it! Youngren's Inc stocks all types of residential and commercial Bryant furnaces that will lower energy bills and are reliable, giving you peace of mind. Talk to one of our technicians today at (630) 701-7794 for more information about our Bryant furnace installation!
Oswego, IL | Air Conditioning Service & Repair and A/C Installation
Air conditioning is a must in Oswego, IL during the summer! Make sure you aren't wasting your hard earned money this year by having your air conditioner serviced by Youngren's Inc's professional technicians before the heat wave gets here. If your old air conditioner needs repairs, and the cost ends up being higher than expected our technicians can go over your options with you, while keeping budget in mind. We have a wide variety of Bryant air conditioners ready for installation that are sure to lower your energy bill. Don't hesitate to call Youngren's Inc for more advice about air conditioner repair; service, or installation today!
HVAC Repair Company, Air Conditioning Repair & Service, AC (A/C) Installation, Furnace Installation & Service, Furnace Repair, Heating Repair, Heating and Cooling Contractor in Oswego, IL
Furnace Repair • Air Conditioning Installation • Heating and Cooling Company