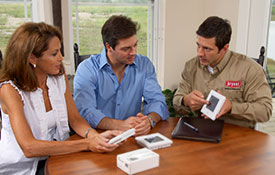 Furnace Repair Company & Heating Repair ContractorAurora, IL, Naperville, IL, North Aurora, IL, Sugar Grove, IL, Geneva, IL & Oswego, IL
Shivering in a cold house on a bitterly cold winter night is never pleasant.  When your furnace suffers complete failure or even minor problems, you probably dread the uncertain cost and time of repair services.  At Youngren's Inc, we answer your concerns with quick, economical and quality workmanship.  As a complaint-free HVAC contractor in Aurora, we've been distinguished by an A+ rating from the Better Business Bureau.  Through personalized attention and ethical business practices, we continue to expand our client list, delivering long-term solutions to heating difficulties throughout Aurora, IL, Oswego, IL, Naperville, IL, Geneva, IL, Batavia, IL, St. Charles, IL, Sugar Grove, IL, North Aurora, IL, Montgomery, IL, Sandwich, IL, Yorkville, IL, Somonauk, IL.
Most often, the faults that interrupt your heating system's performance are caused by dirt build up.  If you've put off seasonal tune-ups, dust and organic matter can corrupt the inner workings of your furnace.  A comprehensive cleaning often clears up problems with overheating, extended run times, or constant cycling on and off.  When you notice any fluctuation in performance, screeching operational noises, or acrid scents, don't hesitate to call Youngren's Inc for assistance. Our licensed technicians will resolve small issues before they graduate into much bigger problems or even a safety concern.  The condition of your heating system is critical to the safety of your home and health of your family.  At Youngren's Inc, safety is the number one priority.  Trust our licensed technicians to not only resolve your main concern but troubleshoot as well, uncovering potential problems, promoting energy efficiency and guaranteeing dependable operation.
Contact Us for Furnace RepairHeating Repair in Aurora, IL, Oswego, IL, Naperville, IL, Geneva, IL, Batavia, IL, St. Charles, IL, Sugar Grove, IL, North Aurora, IL, Montgomery, IL, Sandwich, IL, Yorkville, IL, Somonauk, IL
If your heating equipment requires involved repair, or if the solution matches the cost of a new system, it may be time to consider an upgrade.  Modern advancements in technology have boosted performance while reducing energy consumption. Homeowners can enjoy a 30% savings in utility costs with the installation of a new furnace.  As a Bryant Factory Authorized Dealer, Youngren's Inc provides the most cost-effective, satisfying and durable heating solutions on the market, and through the Bryant Retail Financing Program, we offer numerous options for financing a new system.
When it comes to quality service and customer satisfaction, Youngren's Inc understands that it's the people who make the difference.  Rest assured, our staff is made up of fully licensed, insured and factory trained individuals who provide a team of professional, conscientious and dedicated support to our customers.  We employ only certified technicians who continue industry-specific education, keeping current on the latest advancements in technology and equipment.  For desperate times, Youngren's Inc offers round-the-clock service, making sure we're available whenever you need us.  Our experienced specialists work on all makes and models, outdated or still under warranty.  When you're faced with heating problems, Youngren's Inc will get your home back to comfortable in no time.
---
Heating Repair Company, Furnace Repair, Heating and Cooling Repair in Aurora, IL, Oswego, IL, Naperville, IL, Geneva, IL, Batavia, IL, St. Charles, IL, Sugar Grove, IL, North Aurora, IL, Montgomery, IL, Sandwich, IL, Yorkville, IL, Somonauk, IL
Oswego IL's Most Trusted Heating Repair Company! Furnace Repair, Heating System Repair, HVAC Repair, HVAC Companies Serving: Oswego IL, Naperville IL, Geneva IL, Batavia IL, St. Charles IL, Sugar Grove IL, Sandwich, IL, Montgomery, IL, North Aurora, IL, Yorkville, IL, Somonauk, IL
Furnace Repair Company • Heating Repair Contractor