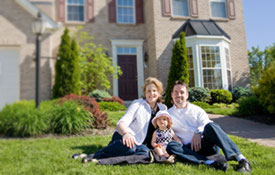 Heating Installation, Furnace Installation Company & Furnace ReplacementAurora, IL, North Aurora, IL, Sugar Grove, IL, Oswego, IL, Naperville, IL & Geneva, IL
You may have inherited your heating system when you bought your home.  You may not have given it a lot of thought.  No heating system lasts forever.  Eventually, you'll have the opportunity to choose a furnace that meets your exact needs.  Youngren's Inc can help you answer and exceed every expectation for superior efficiency, ultra quiet operation, and long-term durability at a price you can happily live with.  Our licensed technicians will match top-of-the-line equipment with the highest quality installation service available in the Aurora area.
Upgrading your furnace is a significant investment and an important decision.  Knowledgeable consumers insist on healthy Indoor Air Quality, rewarding energy efficiency and consistent comfort.  Innovative Bryant Products and systems meet the challenge with a diverse range of sizes, styles and capacities.  The Bryant Evolution System Variable Speed Gas Furnaces far surpass the national requirement with an outstanding 98.3% AFUE rating.  This cost-efficient performance is managed through two-stage operation, allowing for the majority of operation on low stage.  Precise gas modulation provides the perfect amount of heat for superior energy efficiency.  External filter cabinet allows easy access for filter changes.  There's no better solution for home comfort, quality & cost-savings than Bryant.
Professional Furnace ReplacementFurnace Installation in Aurora, IL, Oswego, IL, Naperville, IL, Geneva, IL, Batavia, IL, St. Charles, IL, Sugar Grove, IL, North Aurora, IL, Montgomery, IL, Sandwich, IL, Yorkville, IL, Somonauk, IL
For consistently meeting high standards of product knowledge, technical expertise and exemplary customer service, Youngren's Inc has been recognized as a Bryant Factory Authorized Dealer.  We are member of the Comfort24-7 network, further safeguarding the investment of our customers with an extensive list of guarantees.  Installation, repair and service work performed by the Youngren's Inc technicians, along with the Factory Authorized Parts and Bryant systems we install, are guaranteed to meet expectations or your cost will be refunded.  For the first two years after installation, if you are not 100% satisfied with your Bryant system, Youngren's Inc will fix the problem at no cost, or remove the installed furnace and refund your installation charge.  When you contact Youngren's Inc for furnace installation, we stand behind our work.
New furnaces are significantly more efficient than those from just ten years ago, saving up 30% on energy bills.  To ensure dependable and smooth performance from your new system, conscientious installation is a key factor.  Youngren's Inc has the practical experience, factory training and equipment knowledge to handle any difficulties your home pay present.  Our licensed specialists will accurately fit your equipment to match your installation space, size and style of home, and ductwork.  We will inspect integrity of ductwork, checking for leaks or obstructions, to ensure system efficiency.  By factoring in square footage, ceiling height, windows, doors, insulation, attics, garages, & crawl spaces, we can determine the size of furnace you need to effectively heat your home.
Contact Youngren's Inc for new installation or replacement.  We offer free estimates and financing through the Bryant Retail Financing Program.  Low monthly payments, preferred interest rates and flexible terms allow you to invest in your home's comfort or respond to an unexpected heating emergency without damaging your monthly budget.  To learn more about Bryant financing options, call Youngren's Inc at (630) 701-7794.  We've delivered innovative, cost-effective and rewarding solutions to home and commercial comfort in Aurora and throughout Aurora, IL, Oswego, IL, Naperville, IL, Geneva, IL, Batavia, IL, St. Charles, IL, Sugar Grove, IL, North Aurora, IL, Montgomery, IL, Sandwich, IL, Yorkville, IL, Somonauk, IL since 1932.  We're known for going the extra mile, from quality service and superior products to financing options.
---
Heating and Cooling Installation, Furnace Installation, Furnace Replacement, Heating System Installation Company in Aurora, IL, Oswego, IL, Naperville, IL, Geneva, IL, Batavia, IL, St. Charles, IL, Sugar Grove, IL, North Aurora, IL, Montgomery, IL, Sandwich, IL, Yorkville, IL, Somonauk, IL
Geneva IL's Best HVAC Installation Company. Furnace Installation, Heating Installation, Furnace Replacement, HVAC Companies also serving: Aurora IL, Oswego IL, Naperville IL, Batavia IL, St. Charles IL, Sugar Grove IL, Sandwich, IL, Montgomery, IL, North Aurora, IL, Yorkville, IL, Somonauk, IL
Furnace Replacement • Furnace Installation Company • Heating Installation